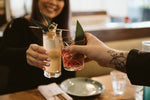 With so many restaurants, bars and lounges closed during this time we have adjusted our hours. We will still be open, but with adjusted hours of operation to cope with enhanced cleaning schedules and the limited number of deliveries we are currently experiencing.
We will be delivering Thursday - Saturday between 9AM-6PM.
UPDATED: As of July 1st 2020, delivery hours will be Wednesday-Saturday between 9AM-9PM, same day orders must be received before 6PM.
DAILY CURB-SIDE PICK-UP IS AVAILABLE BY APPOINTMENT ONLY
Please book all deliveries accordingly. 
Our heart goes out to all of our bartenders, hospitality friends, and event planners that are experiencing a huge impact on their business.
If you are bored in the house, in the house bored... we have our custom ice Sample Kits available for delivery now to allow you to mix up mocktails or cocktails to enjoy at home. 
Stay cool, stay home!