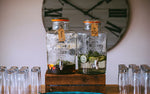 So you want to get married in 2020, you've reduced your guestlist to under 50 and the idea of a micro-wedding has now grown on you.
With your reduction in guest count, you can splurgeon elements like a top-shelf open bar. But don't forget the ice!
We have had an increased number of couples inquiry about how much ice is required for a micro-wedding. 
Are you serving ice water?
Are you serving cocktails?
Are you only serving beer & wine?
We recommend planning between 1.5 and 2.5 pounds of ice per person (4-6 hour event), based on the type of bar service and your purpose behind using ice. Are you using the ice for chilling only (cans and bottles), or chilling as well as serving the drinks with ice. If you are mixing up cocktails or service ice water you will use more ice than just serving wine, beer and bottled water.

Example: 50 guests, chilling and serving drinks, 6pm-midnight
50 x 2.5lbs = 125lbs = 5 x Premium Bagged Ice (26.4 LBS)
If you need help calculating how much ice you may need for your micro-wedding feel free to chat with our support team - using the chat bubble in the bottom right cornner.