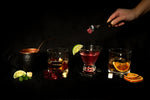 Things are slower than usual at the HQ so we've been playing mixologist and testing out new recipes served on our crystal clear King Cubes. Let's be honest... we've all been drinking a wee bit more during this stay at home order.
We wanted to bring you the easiest, no fuss, no mess way to create fabulous cocktails at home.
Introducing Teaspressa's Luxe Sugar Cubes now available at Dang Good Ice.
An exclusive line of hand made, naturally infused and coloured sugar cubes. A perfect addition to both aesthetic and instant enhancement to your at home happy hour. 
THE FLAVOUR EXPERIENCE
It's easy enough to toss any old sugar cube in your cup, but what do you (and your whiskey) really deserve? Honour that Old Fashioned with a cube made from all-natural, unadulterated goodness. 
FLAVOUR AVAILABLE
Old Fashion

Cosmopolitan

Moscow Mules

Manhattan
VARIATIONS AVAILABLE
Cocktail Kits, includes 6 cubes, king cubes and all ingredients from start to finish⁠

Mini, includes 6 cubes per pack⁠

Stick, includes 12 cubes per pack⁠
Order online for curb-side pickup!
Local delivery available for additional charge.