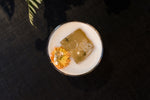 When it comes to planning your dream wedding, or special milestone event, every detail matters. From the venue to the decorations, couples strive to create a unique and memorable experience for themselves and their guests. One aspect that often goes unnoticed but can truly elevate your wedding celebration is the ice cubes in your drinks. Yes, you read that right! Custom king cubes, imprinted with personalized designs using a brass stamp, can add a touch of sophistication and charm to your special day. 
Unleash Your Creativity: With custom king cubes, you have the freedom to let your creativity shine. Using a custom brass stamp, you can add your monogram, wedding initials, or even your logo onto the ice cubes. This personalization not only adds a unique touch to your wedding but also creates a cohesive theme that ties everything together. Whether you want a classic and elegant design or something more fun and playful, the options are endless Imagine the delight on your guests' faces as they receive their drinks adorned with custom-stamped king cubes. It's the little details that often make the biggest impact. 
Custom Cubes in Seconds
Ease of Implementation: One of the best things about using custom king cubes is that the stamping process is straightforward. Bartenders of any skill level can easily learn to stamp the cubes, ensuring a hassle-free experience. This means you won't need to worry about additional staffing or complicated instructions. Simply provide the custom brass stamp to your bartender, and they can take care of stamping the cubes as they serve the drinks. It's a simple yet effective way to add a touch of elegance and exclusivity to your wedding.
How to Order
Email us a vector file of your logo/monogram and we will provide you a proof of the 1.5" circular stamp. Please allow for two weeks for production.
Custom brass stamps are $160 and are yours to keep for future events.
Superior Quality King Cubes
At our company, we take great pride in our custom king cubes. Crafted using Clinebell CB300 machines, our ice goes through a meticulous process to ensure the highest quality product. Pumps circulate the water during freezing, allowing air bubbles to be pushed out rather than trapped within the ice. This attention to detail ensures that each cube is crystal clear, free from imperfections, and exudes a sense of luxury.
96 King Cubes are $96 and are 2" crystal clear cubes
When it comes to planning a wedding, it's the little details that leave a lasting impression. Custom king cubes offer a unique opportunity to add a personal touch to your celebration. So, consider incorporating custom king cubes into your wedding or special event, and let your creativity shine while creating an unforgettable experience for everyone in attendance.