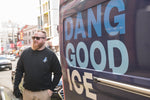 Check Online Reviews: When researching ice delivery services, check out online customer reviews to get an idea of the service quality and level of customer satisfaction. 
We have over 150+ positive 5 star reviews on google and facebook.
Ask for Bulk or Specialty Options: Be sure to inquire about bulk options or other specialty ice types, such as crystal clear, crushed, or king cubes.
We offer premium bagged ice and king cubes.
Ask About Delivery Schedules: Ask each service about their delivery schedules to ensure the ice arrives when needed. Try to find a service that can provide same-day delivery or can work with your specific needs.
We offer delivery 7 days a week during the summer. 
Online Ordering: Ask if they have online ordering options; this allows you to order 24/7 at your convenience and select delivery options more accurately, saving you the hassle of going in person or contacting the business during business hours.
Order online 24/7 with 2 hours notice for same day delivery. You can also set-up weekly subscription orders as well.